Induction Forging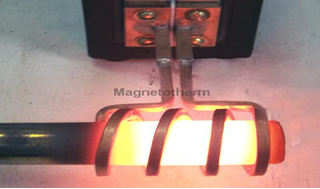 In Induction Heating Terminology, Induction Forging is one of the oldest methods of shaping metal to its desired shape. In forging the heated metal parts will be shaped by pressing with suitable die under very high pressure.
Magnetotherm Offers Induction forging machine suitable for any product application and power level to meet customer requirement. Compared to conventional method of heating, Induction forging is one of the most efficient methods of heating using Magnetotherm Induction Heating Machine.
Magnetotherm based Induction technology Equipment provides the highest forging quality, with reduced rework.
In Induction forging, temperature greatly affects the formability of metals, forging temperature required for heating steel (including plain carbon, micro alloyed and alloy steels) will be 1250°C where metal is shaped or bended to the desired shape. Magnetotherm drive forging Industry towards more accurate net shaped high quality parts and a necessity in providing more value to the forger's customer is inherently related to the needs of further improving quality of forged parts which relates to developing superior design concepts and innovative process control strategies that optimize all stages involved in the forging process.
Magnetotherm offer Induction Heating Machine with Hot Forming metal forging and hot forming with process controllability, Energy Efficiency, Product consistency, uniform heating and consistent quality.